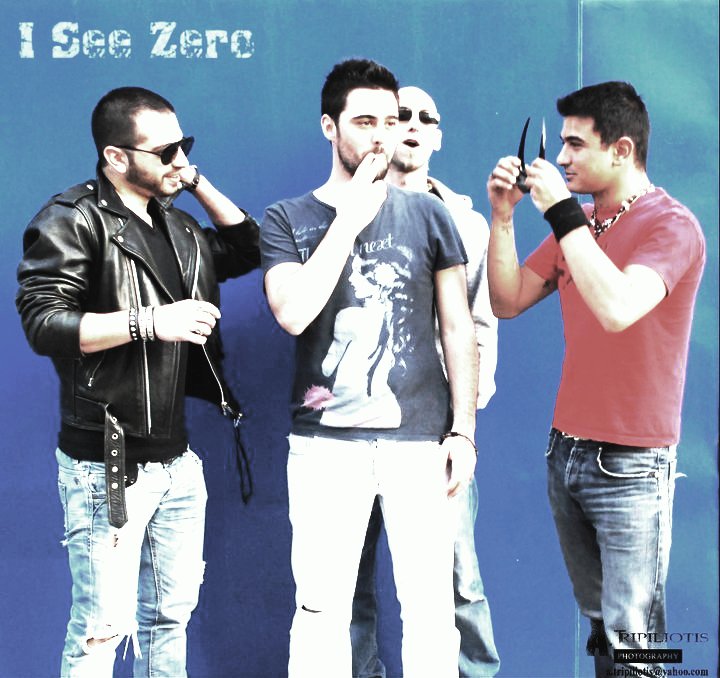 Genre
: Alternative / Rock / Indie
Members
:
Panos Karkalas - Vocals Guitars
Vee Kappa(Vaggelis Koutsoumpas) - Guitars
Dimitris Rodis - Bass
Tasos Bibikos - Drums
Biography
Panos Karkalas was born on February 3rd in Athens to a Greek father and an Irish mother.
His first 12 years were spend living in Athens and the other 12 years living in Ireland(Cork).
Its in Ireland, at the age of 15,that he got his first taste of being a musician by getting an acoustic guitar as a present for Christmas.
Since then he has never looked back.
That's when Panos Karkalas one fine summer locked himself in his room took his acoustic guitar and started writing many songs endlessly.
Soon after that he and another good friend decided to record some of these songs in a house.
The recording procedure was filled with experimenting on all instruments and trying different melodies on the vocals.
Slowly he was finding his steps.
Once the recording was completed Panos booked a ticket and came to back to Athens to try his luck in finding venues in which he could perform his songs to the crowds.
There were a few places in which he performed and also found himself performing on the streets of Athens sharing his feelings and music with passerbies.
All that proved hard and he wasn't prepared correctly. So he decided to return back to Ireland.
There he decided to re-record all the tracks and more to the demo/CD. Due to the everyday troubled situations of humans and many up's and down's in Panos' life he decided to name this project I SEE ZERO.
I SEE ZERO is also his stage name.
With better equipment available to them Panos and Fonz get to business.
Panos then takes over and records all the guitars, bass and vocals.
But he was fortunate to also get a helping hand in backing vocals and drums from other friends.
After 6 months of carefully recording the new project, which consists of 9 songs, it was finally done.
Through the internet his songs got a very good reception.
Some songs were also broadcasted in DreamSpace Radio (Thessaloniki).All the comments made him feel good about the songs and the recording.
Panos never gave up on the idea of going back to his homeland Greece and trying his luck again for the second time round.
So this year in May Panos arrived again in Athens.
This time he was more prepared and promised to himself that he won't give up the fight so easily.
Straight away he came into contact with different musicians and venue owners trying to arrange gigs in Athens.
That seemed to work well as he got two support slots to play.
The first one was in ROI-MAT (Exarhia) where he opened the gig with a 30minute set list. Joanna Drigo was headlining that same night.
The next gig took place in RODEO (Viktoria) where again he opened with a 1hour set list this time.
Again it's worth mentioning Joanna Drigo and The Brainwash Squad was performing on the night.
Great start to the new adventures of Panos/I SEE ZERO.
He looked endlessly to find musicians to start accompanying him in live appearances.
Eventually after some time he found a guitarist, bassist, drummer and a backing vocalist.
They had acoustic gigs in places like AFANEIS BAR (Psirri), AISOPOU MYTHOS (Psirri) and the biggest gig they performed in was the THEATRO PETRAS FESTIVAL 2010.
They opened up the festival for 1 BIMA BROSTA, SPYROS GRAMMENOS and ZAK STEFANOU to an audience of around 200 people.
But Panos was left disappointed a few months later as the bassist and the drummer didn't seem interested and had other priorities with other bands they were already in.
So the search began again for musicians who are on the same wavelength and have the time and are ready to make sacrifices.
Soon after Panos came in contact with Vee Kappa(Vaggelis Koutsoumpas),an excellent guitar player with influences varying in all styles of music.
They decided to have a jam and see how things go and finally he found a guitarist who wanted the same things as Panos.
The chemistry was perfect.
And from there they went in search of a bass player and a drummer to complete the puzzle.A close friend and bass player of Vee Kappa,Dimitris Rodis,seemed excited to join this project.
Despite being a much ''heavier'' player with harder influences he took kindly to the idea of playing alternative/indie/rock style.
And he does it perfect and much more importantly it seems we all have an ear for all styles.No barriers.
Afterall music is universal.The final piece to the puzzle was Tasos Bimbikos.
A drummer with excellent understanding to the rhythm and precise executions of the songs included in the I SEE ZERO cd/demo.
Everybody inputs their ideas and experiences to create a band full of energy,determination,passion,same targets and above all to enjoy making music together and having fun.
Expect to see and hear them soon in venues around Athens and hopefully around Greece.2011 has started positevely.
Peace and love people! ...
Also Find the band on
:
facebook : http://www.facebook.com/iseezero
myspace : http://www.myspace.com/panagiotiskarkalas
youtube : http://www.youtube.com/user/ISeeZeroOfficial
You can also visit our blog : http://iseezero.blogspot.com/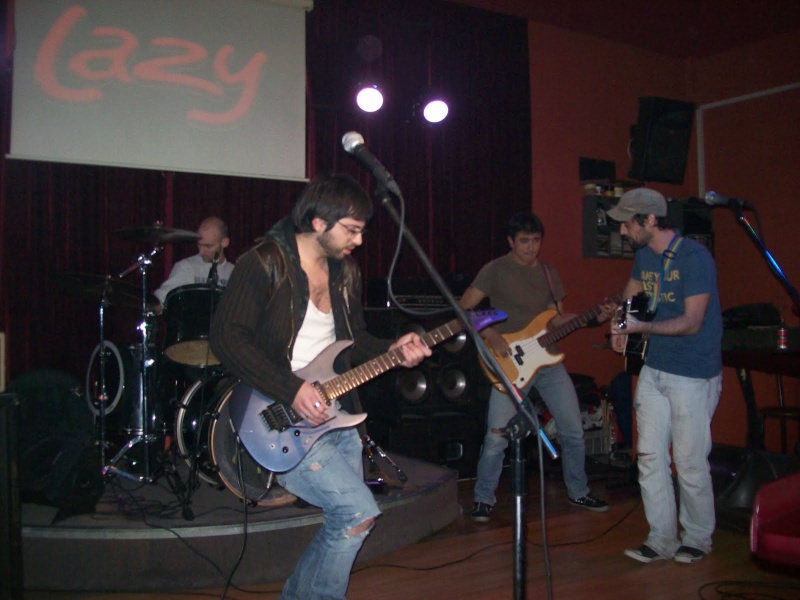 __________
RockWire Internet Radio .. Listen NOW : -= http://Radio.RockWire.gr/ =-
http://www.facebook.com/event.php?eid=207401875967092
15/05/2011 I See Zero Live @ After Dark


---
Permissions in this forum:
You
cannot
reply to topics in this forum